Wedding Ceremonies Among The Butterflies /
Justice of the Peace
Congratulations and best wishes as you plan your wedding day!
Wedding ceremonies are held at The Butterfly Place before or after hours, when you may rent the butterfly flight area for approximately one hour. Please contact Sylvia Leslie, Justice of the Peace / Wedding Coordinator as far in advance as possible to arrange a time for your ceremony and to schedule a meeting. There is no place available for a reception at The Butterfly Place; however, Sylvia will be happy to suggest places nearby which may host a beautiful and memorable reception.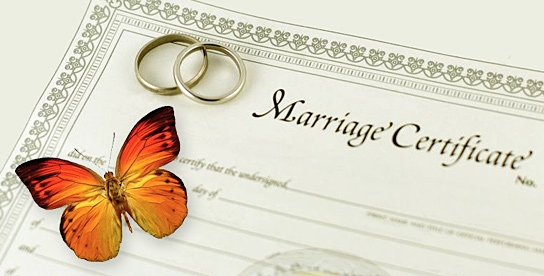 Wedding Prices
$400.00 to rent The Butterfly Place for one hour before or after hours
$100.00 for Sylvia Leslie, Justice of the Peace
$60.00 for a formal rehearsal, if needed, after hours
$25.00 if you would like to release 2 butterflies into the indoor garden
Just the two of you? Please call Sylvia for price.
Frequently Asked Questions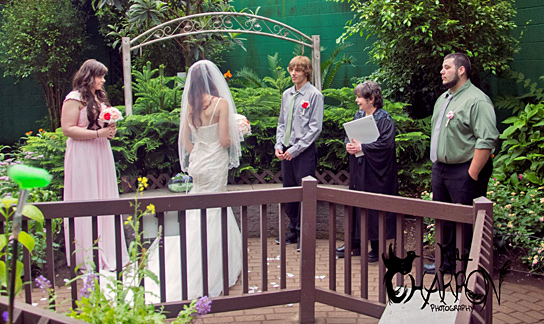 How many guests may be accommodated at The Butterfly Place?
Up to approximately 100.
What about seating?
The Butterfly Place is a natural garden setting with a winding pathway. There are no chairs, but there are some benches and we have some folding chairs available if you have a guest or two who are unable to stand.
May I bring decorations?
The natural setting has a beauty all its own. If you have an idea for something you wish to add, please discuss this with Sylvia.

What about music?
There is a CD player available. You may bring your own music or Sylvia can provide simple "traditional" music for the ceremony. Live musicians are very welcome. Please note: If you burn your own CD, you'll want to bring your own machine or try the CD on our machine in advance to ensure compatibility. In addition, musicians may want to check out where electrical sources are available in the flight area, if needed, to confirm that they are suitable.

How do we (or our guests) order commemmorative bricks?
Bricks are perfect for commemorating special occasions such as your wedding. Engrave a brick with your own message (up to three lines) and choose from one of our preselected images. The bricks will be installed in our pathway in the atrium so you can see it every time you visit! They are also a unique and lasting gift that will be cherished for years to come. Click here to order your commemmorative brick.

What about photography or video?
It is suggested that if a photographer has never been to The Butterfly Place before, he or she should arrange a time with Sylvia before the special day to visit. In addition, couples should work with their photographer and be very specific about what they want. For example, do you want pictures taken during the ceremony? Do you want formal portraits or a more informal "capture the moments" approach? Will you be taking formal portraits of the wedding party only?

When may our guests arrive?
It is suggested that guests start arriving about ½ hour before the ceremony is scheduled to begin so they may enjoy The Butterfly Place and "get settled."
Are you planning to have "just the two of you" or a witness or two as you share vows?
Please talk with Sylvia Leslie, Justice of the Peace / Wedding Coordinator for more information about fees and available times. The Butterfly Place is the perfect setting for engagement photos! Again, talk with Sylvia about fees and times available. Sylvia is a Justice of The Peace in the Commonwealth of Massachusetts and may officiate in Massachusetts as well as in the State of New Hampshire. She is available year round. Please ask about fees if your ceremony will be held at a location other than The Butterfly Place. You may also want to consider renewing your vows "among the butterflies."
Be happy! Enjoy your wedding day! Please with any questions or call (978) 392-0955. Thank you!

Sylvia Leslie
Justice of the Peace / Educational Director